JANUARY 2015

It's a Winter Wonderland –
Is Your Collection Program Ready? >
Passionate For
the Environment! >
Speaker's Corner: "The Role of Solid Waste Management in Eco Cities of the Future" >
---
News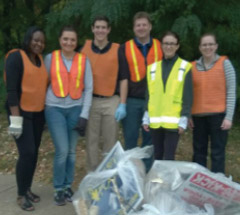 Passionate for
the Environment!
In 2002, GBB proudly adopted a stretch of Route 669 (Prosperity Avenue) from Route 50 to Gallows Road in Fairfax, Virginia, near GBB's headquarters. Since then, litter collection has been performed on a regular basis. Pictured here, from the cleanup performed in the fall, are (left to right): Roshaun Tyson, Ljupka Arsova, Eric Weiss, Brad Kelley, Caroline Friend, and Elizabeth Rice. Behind the camera, and part of the cleanup team: Kate Vasquez!
---
Speaker's Corner
"The Role of Solid Waste Management in Eco-Cities
of the Future"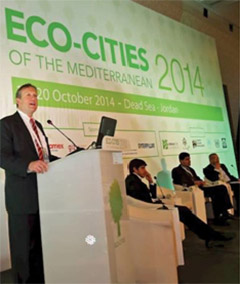 In October 2014, John Carlton, PE, BCEE, GBB Senior Vice President, was at the Eco-Cities of the Mediterranean Forum in Jordan and made a presentation entitled "The Role of Solid Waste Management in Eco-Cities of the Future."

Click here to view a PDF of the presentation >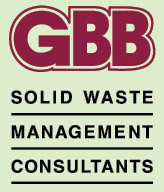 8550 Arlington Boulevard
Suite 304
Fairfax, VA 22031
703.573.5800
Fax: 703.698.1306

It's a Winter Wonderland –
Is Your Collection Program Ready?
It's getting cold here in Virginia where we're based, and in many of our clients' communities. Sometimes the cold brings with it snow and ice that may challenge collection services. Safety is paramount, and knowing how to manage safety properly during ice and snow events can lead to a safer workforce and better provision of services.


Coordination is key
Many public works departments provide both snow and refuse services and are able to manage the schedules of both services (sometimes even using the same drivers), but when the same public or private group does not manage both refuse and snow removal services, communication becomes the key to completing routes safely. Some agencies shift schedules on these days to complete collection a few hours early, and then use emergency communication channels to make sure residents move their carts away from the curb quickly so the carts are not damaged by plows. In areas that experience heavy snowfall, some communities arrange a snowplow route the night before the collection day, mirroring the collection route.


The right containers and vehicles
save money and time
Using the right containers and vehicles improves safety and increases efficiency. An 18-gallon recycling bin can easily become lost under a snowbank or filled with ice so the lid doesn't close. Using a larger container may cause a delay in collection due to weather events. Many communities have found success by converting to automated collection, and communities GBB has worked with have indicated that they rarely have to cancel or slide collection due to snowfall since implementing automated collection. Because workers do not have to walk around on slippery streets, negotiate a snow bank with a trashcan, or otherwise risk their safety, they can operate on more days without schedule changes.


Training, training, training
Training is always important, but during a snow or ice event, it can be the difference between safe and scary circumstances for a collection crew. GBB recommends that organizations in locations where snow or ice are possible incorporate severe weather practice training into standard driver training procedures. If snow is not cleared, then ice-pack conditions, icy ruts, drifts or piles of shoveled snow can obstruct roadways and walking areas, and crews need to be prepared to make the right decisions that reduce risk when encountering these conditions.

Training doesn't just apply to collection crews. Many communities successfully incorporate snow training into their outreach to residents, asking them to shovel out an appropriate spot to set their carts, or instructing them to set out their carts on the outside of any snowbank. Keeping open communication channels and informing customers about collection schedule changes can help to minimize missed collection or 311 non-emergency dispatch calls during a weather event.

When collection is attempted during unsafe and slippery conditions, costs can increase due to lost operational efficiency, downtime from increased accidents and injuries, and the resulting insurance and other costs. Coordination with snow removal crews, selecting the best equipment, and providing ongoing training for workers that may experience these conditions can help clear the way for providing efficient services and protecting workers' safety. GBB has worked with communities across the country to ensure that collection operations, equipment, and public information channels are prepared and adaptable for managing weather events.

---
Recent GBB Assignments
In the past few months, GBB has been selected for several new assignments, including:
Regional Transfer and Disposal Costs/Feasibility Analysis
Albemarle County, VA (subcontractor to Draper Aden Associates)
Study of Mixed Waste Processing Facilities
American Chemistry Council
Waste-to-Energy Procurement Assistance
Amman, Jordan (subcontractor to Deloitte Consulting LLP)
Operations Review
Cecil County, MD
Consulting Services for Waste/Recycling Collection and Disposal Contracts
City of Allentown, PA
Landfill Analysis
City of Baton Rouge/Parish of East Baton Rouge, LA
Procurement Assistance
City of Fort Smith, AR
Mixed Waste Processing Facility and Recycling Services Procurement Assistance
Emerald Coast Utilities Authority, FL
Landfill Closure and Photovoltaic Project Procurement
McManimon, Scotland & Baumann, LLC; Township of Edison, NJ
Solid Waste Rate Study
Montgomery County, OH (subcontractor to Raftelis Financial Consultants, Inc.)
On-going public outreach and engagement services
Virginia and Maryland American Water
We very much appreciate the opportunity to assist these clients with their needs.