APRIL 2019

GBB Assisting Taunton, Massachusetts with Long-Term Sustainable Alternatives as Landfill Scheduled to Close >
Passionate About the Environment? Join GBB! >
New National League of Cities Report on Recycling Co-authored by GBB Project Manager Corinne Rico >
Kent County, Michigan Sustainable Business Park Update >
---
Passionate About the Environment? Join GBB!


Do you want to be on the front lines as a solid waste management consultant – solving problems and lending your expertise to benefit the environment and build great communities? We are currently looking for solid waste management professionals interested in joining our dynamic and entrepreneurial team for the following positions:
- Project Engineer
- Consultant I
- Consultant II
Visit the Career Opportunities section of our website for details.
---
Recent GBB Assignments
In the past few months, GBB has been selected for several new assignments, including:
Feasibility Study for Residential Solid Waste Collection Contracts
Chittenden Solid Waste District, VT
Waste-to-Energy Feasibility Study
Choctaw Nation of Oklahoma, OK
Refuse Division Efficiency Assessment and Evaluation of Alternative Organizational Structure
City of Columbus, OH
(as subcontractor to PFM)
Scale Software Procurement and Evaluation
City of Denton, TX
Collection Review
City of Lynchburg, VA
Strategic Review of Solid Waste Management System and Services / Procurement
City of Taunton, MA
Management of Waste Conversion Technology Request for Information Process
Chester County Solid Waste Authority, PA
Waste Conversion Technologies Review
Fairfax County, VA
Recycling Program Outreach Review
Howard County, MD
Performance Assessment of the National Solid Waste Management Authority and Community-based Organizations
Jamaica Social Investment Fund
C&D Waste Characterization Study
Lancaster Solid Waste Management Authority, PA
Solid Waste Management Feasibility Study
Saipan / Commonwealth of Northern Mariana Islands
Medical Waste Processing Feasibility Study
Union County Utilities Authority, NJ
We very much appreciate the opportunity to assist these clients with their needs.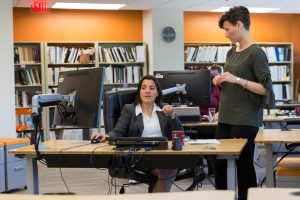 ---
Social Media
We invite you to follow, and like, GBB on LinkedIn, Twitter, and Facebook to automatically get the latest news and info about the firm!
---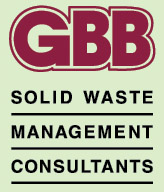 2010 Corporate Ridge
Suite 510
McLean, VA 22102

703.573.5800
hello@gbbinc.com
GBB Assisting Taunton, Massachusetts with Long-Term Sustainable Alternatives as Landfill Scheduled to Close
"We owe it to our citizens to find the lowest cost possible to provide this service."

Thomas C. Hoye, Jr.
Mayor of Taunton, MA
"With the landfill closing soon, this project team is moving quickly to ascertain the best possible short-term and long-term options for the City of Taunton residents' solid waste services."

Jennifer Porter
GBB Senior Project Manager
The City of Taunton, MA's contract for operations of its landfill with a private-sector operator will expire when it is full and no longer permitted to accept waste, now estimated to be no later than December 2019. Recognizing that the benefits it has been receiving from the landfill operator will end in the near future and that it is necessary to develop alternatives to lessen the impact of losing the approximate $3+ million in annual benefits that accrue to the City from its contractual arrangement, the City tasked GBB with reviewing its solid waste management systems and services
In December 2018, following a strategic review of the City's solid waste management services, contracts, and service providers in order to identify opportunities and develop a long-term vision for the future system and services, the GBB project team provided a briefing and a final report to present the findings of the analysis, discuss strategies on how to advance Taunton's future solid waste management system and services, and get feedback. GBB is now working on the procurement and negotiations of services alongside the City of Taunton as it is developing long-term plans for solid waste management. Finding a sustainable solution that blends environmental responsibility and economic viability is of utmost importance to the City as it works together with GBB to identify and secure alternative option(s) for disposal over the coming months, including the potential for working cooperatively with nearby jurisdictions and alternatives to landfilling.
Founded in 1637 by members of the Plymouth Colony, Taunton is one of the oldest towns in the United States. Located approximately 40 miles south of Boston, and 18 miles east of Providence, Taunton became a city in 1864 and now has a total population of approximately 56,000. Taunton's Department of Public Works is responsible for collection of solid waste and recyclables, including special collections for yard waste, from its residents plus City buildings and public areas. It also places dumpsters at neighborhood events and community functions and plays an active role in special cleanup programs. The landfill, permitted to handle up to 685 tons per day, provides for the disposal of municipal solid waste, non-municipal solid waste, municipal sewage sludge, and grit and screenings from Taunton's municipal wastewater treatment plant.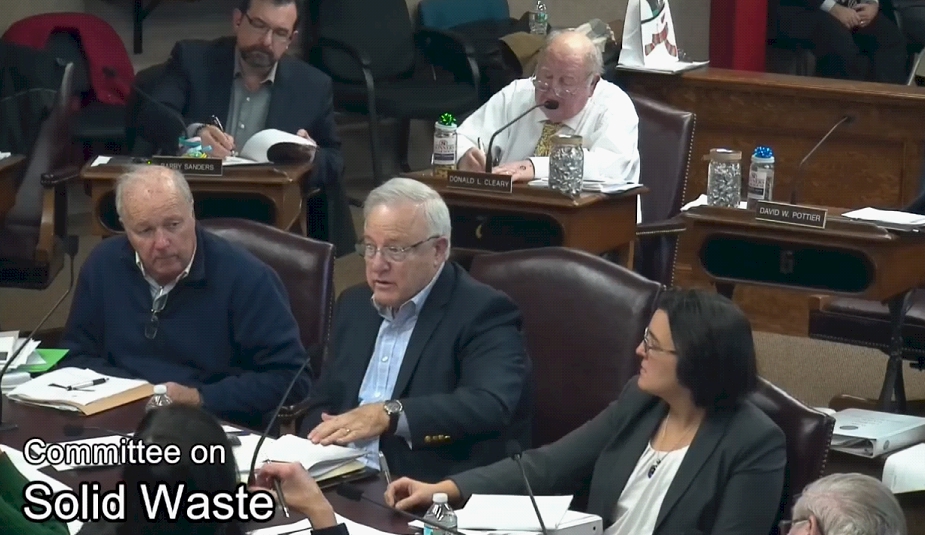 Harvey Gershman with GBB Senior Project Manager Jennifer Porter
at the City Council Committee on Solid Waste on December 18, 2018.
---
New National League of Cities Report on Recycling Co-authored by GBB Project Manager Corinne Rico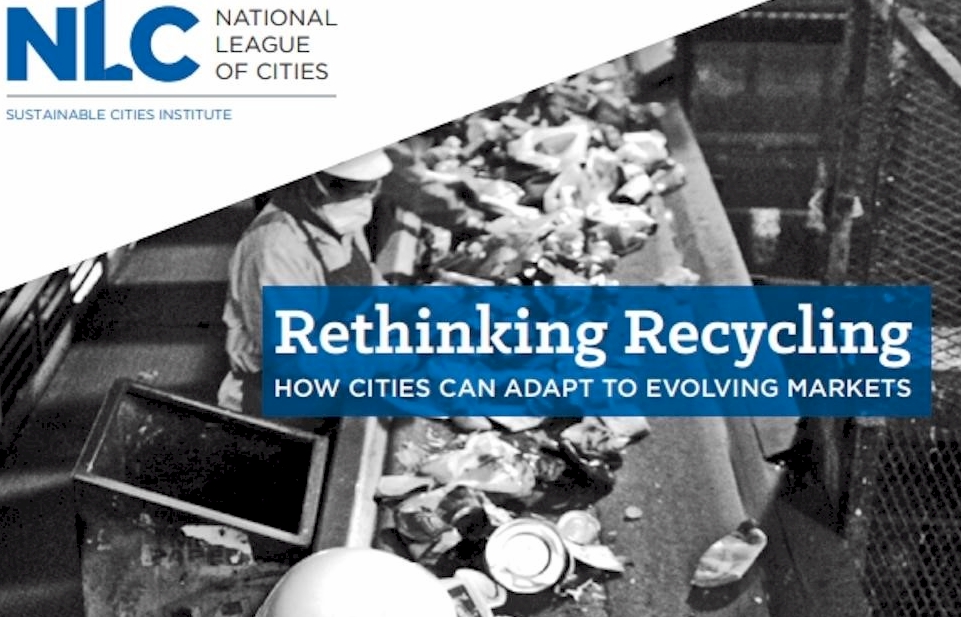 The Municipal Action Guide on recycling that GBB Project Manager Corinne Rico co-authored while a fellow in the National League of Cities' Sustainable Cities Institute was released last September. In addition to discussing how China's regulations affect cities, laying out short-term responses and strategies, and providing profiles of 3 cities that are pursuing ambitious goals, the report concludes with 7 recommendations to help boost the resilience of local recycling systems and achieve long-term sustainable waste management goals:
Conduct an economic analysis of current waste management operations
Work with contractors
Ensure fees and rates reflect current costs
Evaluate local policies and economic incentives
Explore local and unconventional markets
Consider your streams
Examine asset ownership and consider infrastructure investments
Download the report via the National League of Cities' website and feel free to contact Corinne at crico@gbbinc.com with comments and questions!

---
Kent County, Michigan Sustainable Business Park Updates
"I'm pleased to report that the Kent County Board of Public Works has approved the advancement of the Sustainable Business Park Master Plan that GBB developed. This is a pivotal moment for organizations, like Kent County Department of Public Works, who operate integrated solid waste management systems as we all begin to consider how to shift our dependence away from landfilling and towards sustainable materials management strategies.
GBB's comprehensive approach to the development of this Master Plan will allow us to move seamlessly into the implementation phase. Your agency's collective industry experience and willingness to bring local engineering consultants alongside the process has proven to be invaluable as we explore the variety of technologies in use across the world to help us reach our goals of reducing waste going to landfill by 90% by 2030.
Please extend my appreciation to all the GBB staff who helped us get to this point in our path. Your expertise and excitement for this project was critical in our success thus far."

Darwin J. Baas
Department of Public Works Director
Kent County, MI
A bold goal to divert, by 2030, 90% of County-generated trash that goes to landfills was set by Kent County, MI. Building a Sustainable Business Park is an essential part of reaching that goal, helping to significantly reduce trash buried in landfills and attract investment and jobs from companies that can convert waste into usable products. Developments in the past few months of this project, of which GBB is a proud Planning Partner, include:
September 2018 – Opening of Interactive Recycling Exhibit at Recycling and Education Center
Educating the next generations is key to the County's success with the upcoming Sustainable Business Park and circular economy system. With that in mind, a $300,000 interactive, hands-on recycling exhibit was unveiled in September at the County Recycling and Education Center. The exhibit includes a wall depicting a landfill scene, with sound of heavy machinery. Visitors are then provided with a brief history of recycling, and the facility's recycling process is explained through educational boards and interactive exhibits. Visitors can also observe real, live recycling operations from the walkway overlooking the facility.

October 2018 – Plan Approval
The Kent County Board of Public Works formally approved the Sustainable Business Park Master Plan, setting in motion implementation of the ambitious project.

November 2018 - Dar Baas Interviewed about the Sustainable Business Park
In a 12-minute interview on WKTV, Darwin Baas (Director of the Kent County, MI, Department of Public Works) discussed details of the Sustainable Business Park Master Plan.

Click the image to see the 12-minute interview: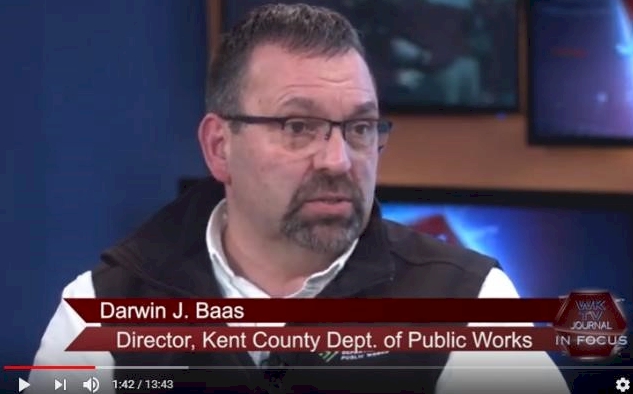 March 2019 – Phase 2 Towards Plan Implementation
With an approved plan in hand, the County's project development team's task is now to turn it into reality. The initial step of this phase, starting in March, is to identify key goals for the Sustainable Business Park; determine their importance and weight; and review / score / rank the responses received during the Request for Information process. With the clock ticking on the three-year timeline to make the project a reality and avoid developing the 250 acres into a landfill expansion, the vision of the Sustainable Business Park is within reach. GBB is happy to be on the implementation team to make it happen.

For more information, visit the Kent County Sustainable Business Park section of GBB's website for continuous updates on the project.

---
Speaker's Corner
"The Circular Economy:
How Local Governments Can Close the Resource Loop"
During her session at the Illinois Counties Solid Waste Management Association Conference, in November 2018, Corinne Rico (GBB Project Manager) reviewed the Circular Economy foundations, benefits and business case, provided development examples, and discussed how to start implementing the concept.