AUGUST 2017

---
Speakers' Corner
"Circular Economy Actions: Cities and Solid Waste Management"
The 2017 Sustainability and Circular Economy Summit took place the last week of June, in Washington, DC. The event was organized by the U.S. Chamber of Commerce Foundation in partnership with The Ellen MacArthur Foundation, the World Business Council for Sustainable Development, and with support from the World Economic Forum Platform for Accelerating the Circular Economy.
Steve Simmons (GBB Senior Vice President) made a presentation entitled "Circular Economy Actions: Cities and Solid Waste Management" as part of the "Circular Economy Principles in Action – Moving from Prototype to Mainstream in Cities and Mobility" session.

Click here to view a PDF of the presentation >
"To Mix or Not to Mix?"
In May, at WasteExpo, Lori Scozzafava (GBB Senior Vice President, Operations Officer) was part of a panel, moderated by Anne Germain (National Waste & Recycling Association,) where she discussed mixed waste processing along with Steve Viny (Envision Holdings) and JD Lindeburg (RRS.) Her presentation was called "To Mix or Not to Mix?"

Click here to view a PDF of the presentation >
---
Upcoming Events
GBB will be present at the following industry events. We look forward to seeing you there!
Resource Recycling Conference
Minneapolis, MN
August 28-30, 2017

Lori Scozzafava, Attendee
Northwest Enterprise Development Conference
Tulalip, WA
September 5-7, 2017

John Carlton, P.E., BCEE, Attendee
Keystone SWANA / Pennsylvania Waste Industries Association Conference
Harrisburg, PA
September 6-7, 2017

Steve Simmons, Speaker
"Conversion Technologies"
WASTECON / International Solid Waste Association's World Congress
Baltimore, MD
September 25-27, 2017

GBB, Exhibitor (Booth #710) and Co-Sponsor of SWANA Young Professionals booth

Harvey Gershman, Moderator
"Achieving Zero Greenhouse Gas Emissions in the Ontario Waste Sector"

John Carlton, P.E., BCEE, Moderator
"SUEZ Last References on Organics Agronomic Recovery with Green Energy"

Chris Lund, P.E., PSS, Speaker
"Dump Closure as Part of Guam's Solid Waste System Turnaround"

Brad Kelley, BSME, Speaker
"How Does a Waste Characterization Study Help with Future Planning?"

Eric Weiss, Poster Presentation
"Using a Waste Characterization to Make Effective Solid Waste Planning Decisions"
Renewable Energy from Waste Conference
Fort Myers, FL
October 2-4, 2017

GBB, Co-organizer and exhibitor (Booth #17)

Harvey Gershman and Steve Simmons, Speakers
"Pre-Conference Workshop: Waste Conversion from Planning to Execution"

Harvey Gershman, Speaker and Moderator
"Waste Conversion Industry Update"

Steve Simmons, Moderator
"Lessons from Abroad"

Harvey Gershman, Speaker
"Conference Takeaways"
BioCycle Conference on Renewable Energy from Organics Recycling
Portland, OR
October 16-19, 2017

Ljupka Arsova, Speaker
"Assessing Biogas Project Potential for Tribal Communities"
Visit the conference / tradeshow section of our Website for an updated list!
---
Social Media
We invite you to follow, and like, GBB on LinkedIn, Twitter, and Facebook to automatically get the latest news and info!
---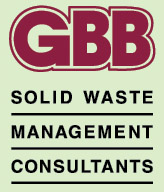 2010 Corporate Ridge
Suite 510
McLean, VA 22102

703.573.5800
Fax: 703.698.1306
GBB Assists Public-Sector Organizations with Management, Monitoring, and Planning for Waste-to-Energy Facilities
GBB is known to be an industry thought leader for matters related to waste-to-energy (WTE) facilities, technologies, and development because of our extensive experience on over 200 assignments for utilization of waste for its energy content and tracking more than 475 alternative conversion technology companies. In the past year, GBB's knowledge in this area was further expanded with the acquisition of RRC Power & Energy, LLC's Energy Facilities Group. This enabled GBB to widen its WTE services to include studies, facility audits / assessments, owners engineer services, project management, engineering design, construction support commissioning / acceptance testing, and operations monitoring.
In addition to this knowledge base, another level of expertise has been added to the GBB team. Former Covanta Energy Corporation senior executive and energy from waste expert, Seth Myones, joined GBB as Special Principal Associate - Financial Advisory Services. This has further strengthened the firm's ability to provide visioning, strategy development, execution, and operations consulting services.
Consequently, GBB was recently selected by several public-sector organizations with WTE facilities to provide consulting and engineering services to manage and monitor these facilities and to provide long-term strategic planning advice:
Dutchess County Resource Recovery Agency, NY
GBB is providing professional services to support the Agency to manage its Resource Recovery Facility, which opened in 1989. The facility, which combusts most of the garbage collected in the County, has a processing capacity of 164,000 tons of post-recycled waste per year and has a 7 MW turbine that converts the waste into energy. Services provided by GBB include facility site reviews; annual reconciliation and reporting; regulatory compliance reporting review; assistance with capital improvement projects; and a recently completed bond refunding report. GBB's efforts have resulted in the Agency's ability to lower its overall costs associated with facility operation and financing.

Marion County, OR
Along with subcontractors J.R. Miller & Associates and Sanger Law PC, GBB was selected to provide solid waste and energy consulting services for the Energy from Waste Facility (EfWF), which combusts 185,000 tons per year of municipal solid waste while generating about 13 megawatts of electricity. Services include a comprehensive analysis of the County's solid waste management system; monitoring state and regional policy considerations that might impact the County's system; analyzing and advising the County regarding current and future markets for power and other trends impacting the EfWF; and providing advice and support during negotiations with the EfWF operator. GBB has initiated this effort with a review of historical solid waste trends and previous projections to better understand the volatile quantity of waste generated through the recession into recent years which show significant increases. Important current elements of the Marion County system includes the negotiation of a new power purchase agreement between the facility operator and Utility along with an upcoming negotiation of the agreement between the County and the EfWF operator. GBB is working to ensure a successful outcome for Marion County and a system that will strive to achieve the highest recovery rate in Oregon.

Wasatch Integrated Waste Management District, UT
Over the years, GBB and the former RRC Energy Facilities Group have assisted the District with strategic solidwaste management planning and engineering services for the Davis Energy Recovery Facility. This included a facility audit, plant improvement planning and execution, and a steam turbine generator study. Since losing its main energy customer, the District has determined that closing the facility is in its best interest. GBB will assist the District in developing a long-term strategy for its waste stream and the energy recovery site.

Kent County, MI
GBB has advised the County for solid waste management strategic planning for its entire system which includes the 190,000 ton per year Waste-to-Energy facility.
In addition to this, GBB will monitor the operation, maintenance, repairs, and renewal of the facility to ensure that its contractor meets the obligations of their contract.

---
GBB Developing Master Plan for Resource Park as Part of Kent County, MI's Sustainable Materials Management System
"In 2016, we set a roadmap to achieve 20% reduction in landfilled waste by 2020, and 90% by 2030, to bring Kent County closer to a circular economy system. A key component of that strategy is the successful establishment of the Resource Park.
The GBB Project Team has proven that it's up to the challenge with the combination of a clear understanding of our vision, a sensible project approach, past success stories, strength of the project team, and recent projects performed for the County."

Dar Baas
Director Kent County
Department of Public Works
"As evidenced by China's recent waste import ban, America's recycling future is highly dependent upon the development of domestic outlets for its recovered materials.
Resource Parks, such as the one envisioned for Kent County, can play a vital role in the development of that domestic capacity while providing green collar jobs for local communities."

Steve Simmons
GBB Senior Vice President
GBB has been selected by the Kent County, MI Department of Public Works (DPW) to develop a Master Plan for 200+ acres of property to convert waste materials into marketable products. As part of its long-term vision to implement Sustainable Materials Management (SMM) strategies, the DPW is pursuing the development of the Resource Park as a key component of its SMM system, to house facilities to recover discarded materials, to reuse and recycle the recovered material, and to convert non-recyclable material into intermediate products or to recover the energy value of those discards. Joining GBB for this key assignment are Fishbeck, Thompson, Carr & Huber, Inc., a local Grand Rapids-based Engineering, Environmental Sciences, Architecture, and Construction Management firm, and Stern Brothers & Co., an independent investment banking firm who provides various public and private infrastructure finance opportunities. Stern Brothers is one of the nation's largest certified 100% woman-owned business enterprise investment bank.
The long-term goal for the Resource Park is to displace landfill use for disposal of waste materials as much as possible by attracting new business ventures that will not only recover waste materials, but also convert them into new, domestically manufactured, products through innovative technologies. As part of the assignment, the GBB Project Team will conduct stakeholders' meetings; perform waste stream and market analyses; evaluate technologies; develop a Master Plan for the design and construction of necessary public infrastructure; research funding sources; and evaluate how the services provided by the Resource Park tenants might interact with Kent County's existing waste management infrastructure.

---
Lori Scozzafava Promoted to GBB Senior Vice President, Operations Officer; Joins Ownership Group
A passionate advocate for environmental issues including sustainability, waste reduction, recycling, composting and integrated waste management, Lori Scozzafava has joined GBB's ownership group and been promoted to Senior Vice President, Operations Officer. She has nearly 30 years of solid waste management industry experience, including 15 years in high profile leadership roles with national industry associations where she influenced regional and national policy in multiple environmental areas.
"Since joining GBB in July 2015 as Vice President, Operations Officer, Lori has contributed tremendously in helping run our organization, plan the long-term path for GBB's expanding ownership, as well as successfully lead multiple client project teams.
Her expertise in financial management, long term strategic planning, and operational management, in addition to her passion for the environment, make Lori a key member of the GBB team and ownership group going forward."
Harvey Gershman


GBB President and Co-Founder
Read the Press Release

---
GBB Expands
GBB is pleased to welcome three professionals with diverse backgrounds and areas of expertise who recently joined the firm, creating synergies with the current multi-disciplined team:
Energy from Waste Expert Seth Myones - Special Principal Associate, Financial Advisory Services
Mr. Myones has over 30 years of experience in the waste and environmental services, industrial services, and waste-to-energy/renewable energy spaces with in-depth strategic, commercial, operational, and technical expertise. Previously employed by Covanta Energy Corporation for more than 25 years in P&L leadership roles and a member of the Senior Executive team for over 15 years, he brings to GBB his impressive track record as an industry leader, his industry knowledge and leadership abilities. He will provide greater financial and business acumen depth to GBB's team providing visioning, strategy development, execution, and operations consulting services.
Based in the Greater New York City area, he can be reached at SMyones@GBBinc.com.
Read the Press Release

Sustainability Leader Jennifer Porter - Senior Project Manager
A sustainable development leader, Ms. Porter has more than 15 years of experience on government and private sector sustainability initiatives. Her wide range of diverse skills, and extensive, valuable hands-on experience with recycling and waste management programs include over 6 years as Conservation Program Coordinator with the City of Portland's (Oregon) Office of Sustainable Development where she managed citywide recycling changes; led multifamily recycling projects; headed the renewal of the 10-year residential waste haulers franchise; and developed a statistical model for a commercial food composting program.
Based in New York City, she can be reached at JPorter@GBBinc.com or (347) 979-4992.
Read the Press Release

Recent Graduate William Cooper - GBB Consultant I
A recent Boston University graduate with a focus on energy and environmental analysis, Mr. Cooper's coursework included topics such as Resource Economics, Methods of Environmental Policy Analysis, Regional Energy Modeling, Environmentally Sustainable Development, World Oil Markets, Environmental Law, and Energy Transitions. A key extracurricular activity was his involvement with the Massachusetts Institute of Technology (MIT) Waste Alliance, a community of MIT and Boston-area students, industry experts, professionals, researchers, entrepreneurs, and policy-makers, with a passion for waste management, that comes together to share and discuss waste-sector issues and innovations.
Based at GBB's headquarters in McLean, VA, he can be reached at WCooper@GBBinc.com or (703) 573-5800.

---
Reading List
As thought leaders, GBB consultants regularly contribute articles to leading industry publications, sharing insight and information on important topics. Recently published articles include:
The Future of Collection Trucks - It's Electric!
John Carlton, P.E., BCEE, GBB Senior Vice President
Waste Today Magazine - July 2017
Better Waste Management Can Help Reduce Greenhouse Gases… Says Science!
Steve Simmons, GBB Senior Vice President
Waste Today Magazine - May 2017
Sometimes, "Different" is "More"
Kate Vasquez, GBB Senior Consultant
Recycling Today - May 2017
Creating Successful Partnerships Involves Risk Sharing
John Carlton, P.E., BCEE, GBB Senior Vice President
Waste Today Magazine - March 2017
Links to all recently published GBB articles are available on the website.