JANUARY 2016
Small Scale WTE Project Considered by the Metlakatla Indian Community, AK >
Renewable Energy Expert Stephen Simmons Joins GBB as Vice President >
Ljupka Arsova Promoted to GBB Senior Consultant >
Webcast: Source Segregation or Commingled Recycling? >
---
Webcast:
Source Segregation or Commingled Recycling?
Brad Kelley (GBB Senior Project Engineer), Brajesh Kr. Dubey (Associate Professor, Division of Environmental Engineering and Management at the Indian Institute of Technology), Victoria Hutchin (Ricardo Energy & Environment Senior Consultant) and Ranjith Annepu (be Waste Wise Co-Founder and Curator) discuss source segregation and commingled recycling in this 50-minute webcast hosted by be Waste Wise:


Click on image to view
50-minute webcast
---
Reading List
As thought leaders, GBB consultants regularly contribute articles to leading industry publications, sharing insight and information on important topics.
Recently published articles include:
Brad Kelley
GBB Senior Project Engineer and
Ljupka Arsova
GBB Senior Consultant
Renewable Energy from Waste
December 2015
REW 2015 Provides Valuable Advice for Planning and Implementing New Projects
Harvey Gershman
GBB President
Renewable Energy from Waste
December 2015
MWP: Do You Doggie-Paddle to It or Swim Free Style?
(Part 4 of 4)
Bob Brickner
GBB Founder Associate
MSW Management Magazine
November 2015
Recycling Desire Up, Prices and Demand Down…What Should We Do?
Harvey Gershman
GBB President
Renewable Energy from Waste
October 2015
Let's Get Honest … MWP Has a Place in the Big Pond with All the Alligators!
(Part 3 of 4)
Bob Brickner
GBB Founder Associate
and
Brad Kelley
GBB Senior Project Engineer
MSW Management Magazine September 2015
Making the Most Out of our Mixed Waste
Harvey Gershman
GBB President
Renewable Energy from Waste August 2015
Links to all recently published GBB articles are available on the website.
---
Social Media
We invite you to follow, and like, GBB on LinkedIn, Twitter, and Facebook to automatically get the latest news and info!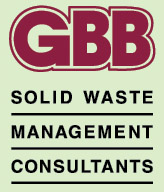 8550 Arlington Boulevard
Suite 304
Fairfax, VA 22031
703.573.5800
Fax: 703.698.1306
Accidents Don't Just Happen

By Terry Schweitzer, GBB Vice President
Vehicle accidents and personal injuries do not just happen and should not be assumed to be an integral part of the occupation costs of collection, disposal or recycling. Plain and simple - accidents are caused by humans. Herbert W. Heinrich was an American industrial safety pioneer who published a book titled "Industrial Accident Prevention, A Scientific Approach" in 1931. He determined that in a workplace, for every accident that causes a major injury, there are 29 accidents that cause minor injuries and 300 accidents that cause no injuries. Frank Bird, a US safety researcher, also concluded that there are another 600 near misses per major accident. No matter what theory you subscribe to, there is a correlation that continued unsafe acts will eventually lead to serious accidents and fatalities.
What is the common thread with all this? Human behavior. Some experts in the field of safety claim Heinrich's work as the basis for the theory of Behavior-based safety. They feel that as many as 95 percent of all workplace accidents are caused by unsafe acts: taking shortcuts, being over confident, beginning a task with incomplete instructions, poor housekeeping, ignoring safety procedures, mental distractions, and failure to plan.
One approach for reducing accidents involves understanding organizational weaknesses. We must rationalize that unsafe behavior does not occur on its own in organizations; the unsafe behavior was caused by the organization itself. An organization must get past the what, when, where and how an accident happened and understand why it happened. Underneath every human cause lies a deeper cause called latent causes.
As example, while I was District Manager for a solid waste collection company, we had a driver shortage. We decided to put our "best" driver with our two "best" helpers and give them two routes because we knew they could "bang it out." While on route, a needle stuck one of the helpers on that crew while collecting garbage. We conducted a Latent Cause Analysis (LCA) and understood that 1) accidents and injuries are not a part of doing business; 2) management was indirectly contributing to safety failures by our actions and words; and 3) safety failures, including unreported unsafe acts, were trying to tell us something. We learned that we did not always think about safety in our decisions and were more focused on productivity, and communicated as such with front-line employees. We eliminated the use of "speed" words such as fast, hurry and quickly, and replaced them with safety and efficiency words. We aligned our actions with safety, instituted daily safety briefings, and empowered employees to report unsafe conditions. The LCA findings changed the mindset of all the employees, dramatically reducing unsafe acts and accidents.
Accidents don't happen, they are caused by humans. It's important to realize that the cause can be organizational; where the organization directly or indirectly influences employees to take shortcuts. It is important that management/supervision be constantly aware of how it acts and directs employees to work safely. By conducting a LCA whenever a safety failure occurs, the organization can change human behaviors and prevent accidents.

*The full version of this article originally appeared in the newsletter for members of the Municipal Waste Management Association.*
---
Small Scale Waste-to-Energy Project Considered by the Metlakatla Indian Community, AK
In April 2015, through a formal procurement process, the Metlakatla Indian Community (MIC) selected GBB to evaluate the feasibility of a small scale waste-to-energy (WTE) facility as part of their Solid Waste Management Plan (SWMP) update for which they had received a grant from the U.S. Department of Interior. The MIC's aim was to evaluate WTE technologies that offer an affordable solution providing local jobs, creating energy, and capable of processing at least 5 tons per day of MSW as currently generated, with an allowance for feedstock increase to around 10 tons per day.
After a site visit, in southeast Alaska, and a review of the existing plan, the GBB Project Team headed by Senior VP John Carlton, P.E., BCEE, provided guidance in updating the SWMP and investigated recycling options. As part of the effort the team reviewed and considered small scale WTE strategies that would reduce or eliminate the need for the municipal dump and create energy (electricity, heating or cooling) for MIC facilities such as schools, medical clinic, and fish plant. This led to the next step in which the GBB Project Team prepared and published a Request for Expression of Interest and Qualifications for the small scale WTE system. In late November, the GBB Project team presented its report, including economic evaluations of three scenarios and recommendations, at the MIC Special Session of Tribal Council Meeting. The MIC is currently evaluating its options.

---
Renewable Energy Expert Stephen Simmons Joins GBB as Vice President
In mid-December, Stephen Simmons joined the firm as Vice President. Formerly a GBB Principal Associate in 2012 and 2013, he is a sustainable development business leader with more than 30 years of experience in the energy and environmental services sectors. Having worked with leading international energy operating companies and engineering / consulting firms, he is highly experienced in program and project management, new business development, waste and power marketing, technology evaluation, business financial modeling, profit and loss management, facility design, procurement, and construction.

"I help develop programs and projects implementing the 3 E's of sustainability: ecology, economy, and equity. Initiatives must address all three to be successfully designed for the long run."

Stephen Simmons
More info:
---
Ljupka Arsova Promoted to GBB Senior Consultant
Ljupka Arsova, who joined the firm in 2012, has been promoted to the position of Senior Consultant. With over 8 years of experience in the solid waste management industry, she specializes in anaerobic digestion and advanced technologies for processing organic and mixed solid waste. Her experience goes beyond the U.S. borders in assisting public and private clients through strategic, technical and economic feasibility analysis; feedstock availability projections; and supporting procurement processes. For private-sector clients, she has completed due diligence for projects and technologies investment, market research studies for private companies considering emerging technologies, and assisted in strategic development of project proposals.

"Her passion for sustainability issues, along with her versatility and high level of motivation make her a great asset for both GBB and our clients."

Harvey Gershman, GBB President
More info:
---
Recent GBB Assignments
In the past few months, GBB has been selected for several new assignments, including:
Evaluation of Collection Services and Automation
City of Midland, MI
Residential Collection Route Optimization and Modeling
City of Spokane, WA
Waste Characterization Study
Mecklenburg County, NC
Independent Assessment of Equipment Value
New Hanover County, NC
Recyclables Collection Routes Optimization
Orange County, NC (as subcontractor to Draper Aden Associates)
Procurement Assistance
Virgin Islands Waste Management Authority
Evaluation of Local Market Average of Waste Disposal Fees
Wallingford Regional Solid Waste Project Board, CT
We very much appreciate the opportunity to assist these clients with their needs.