GBB was selected by the Cayman Islands Government's Department of Environmental Health (DEH) to provide Waste-to-Energy (WTE) and Solid Waste Management Consulting Services. Joining GBB on this project is Cayman Islands-based APEC Consulting Engineers, Ltd., a Civil and Structural engineering consultancy with the expertise and background to complement GBB's experience and capabilities.
The Cayman Islands, with a population of 45,000, are a British territory located in the western Caribbean Sea, comprising the islands of Grand Cayman, Cayman Brac, and Little Cayman. The islands are situated about 480 miles south of Miami.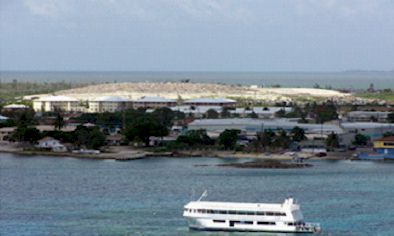 Cruise ship with landfill site in background on Grand Cayman.
GBB's experience and understanding of the unique issues that islands present - gained from having worked with other island communities such as the County of Maui, Hawaii, and the U.S. Virgin Islands - were key factors in GBB's selection.
"The GBB Project Team combines a unique blend of extensive solid waste management, procurement, and incineration / waste-to-energy expertise, engineering know-how, and local knowledge and presence," noted Sean McGinn, DEH's Assistant Director for Solid Waste. "In addition to exploring avenues to increase recycling and improve our solid waste management operation, our priority is to develop a WTE facility. We look forward to working closely with GBB and APEC on those important projects."
The scope of the project includes implementing WTE for both current waste and burnable waste that can be mined from landfill areas; mining the landfill areas; using stockpiled tires as a supplemental fuel with the mined waste to raise its energy content and to remove the tire piles; implementing recycling processing for mined material, disaster debris, C&D materials, and other recyclables; and advancing the implementation of recycling opportunities for waste generated by residents, resorts, businesses, government, and tourists.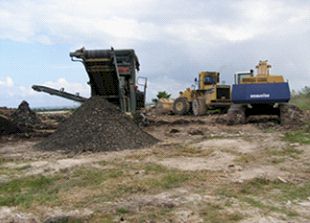 Primary screening equipment includes: Excavator & bucker loader in use during mining field tests at George Town Landfill.
The initial focus of the assignment that started in October 2007 is the development of a waste-to-energy facility to be located on a site adjacent to the George Town Landfill on Grand Cayman. Keeping in mind the Cayman Islands Government's desire to bring about a paradigm shift from the current disposal system to a sustainable and environmentally superior solid waste management system, the objectives for this future incineration system are to: maximize diversion; allow for materials to be mined from George Town Landfill for materials and energy recovery; convert remaining combustible waste to energy products; and minimize land disposal requirements.
"The future solid waste management system for the Cayman Islands needs to change from one of taking and disposing of essentially all materials to one that processes and maximizes diversion of both current and past landfilled/stored materials. This will be a significant challenge to implement," said Harvey Gershman, GBB President.
Related Web Links:
>> Press Release
>> Selected GBB Waste-to-Energy Projects Expertise
>> Selected GBB Solid Waste Management / Strategic Plans Expertise
>> Back to top