SEPTEMBER 2017

---
Speaker's Corner
"Today and Tomorrow:
Mixed Waste Processing at Wasatch Integrated Waste Management District"
Nathan Rich
Matt Clark


In April, Nathan Rich (Wasatch Integrated Waste Management District Executive Director) and Matt Clark (GBB Vice President) made a presentation at the North American Waste-to-Energy Conference (NAWTEC) about Mixed Waste Processing at the Wasatch Integrated Waste Management District as part of a session discussing how processing waste prior to energy recovery allows operators to recover valuable materials from the waste stream, as well as prepare the fuel for optimal energy recovery. The session examined technologies and processes that are available to communities for front-end processing, as well the economics of pursuing these approaches.

Click here to view a PDF of the presentation >
---
Recent GBB Assignments
In the past few months, GBB has been selected for several new assignments, including:
Benchmarking and Cost Development of Proposed RDF Operations / Waste Reduction Model Analysis
City of Red Wing, MN
Long Term Strategic Planning
City of Tampa, FL (as subcontractor to Tetra Tech)
Commercial Refuse Operation Analysis
City of Tulsa, OK Professional
Engineering Services
Dutchess County Resource Recovery Agency, Poughkeepsie, NY
Baghouse Performance Review
Hennepin Energy Recovery Center, MN
Solid Waste and Energy Consulting Services
Marion County, OR
Evaluation of Financial Viability and Alternatives for C&D Landfill
Orange County, NC (as subcontractor to Draper Aden Associates)
Commercial Collection Review
Seaside Community Development Corporation, Santa Rosa Beach, FL
Strategic Planning
Solid Waste Authority of Central Ohio
Waste-to-Energy and Emerging Conversion Technologies Briefing
Tulalip Tribes, Tulalip, WA
Program and Technical Support Services for the Landfill Methane Outreach Program
United States Environmental Protection Agency (as subcontractor to the Eastern Research Group)
Solid Waste Management System Plan Update
Wasatch Integrated Waste Management District, UT
We very much appreciate the opportunity to assist these clients with their needs.
---
Upcoming Events
GBB will be present at the following industry events. We look forward to seeing you there!
WASTECON / International Solid Waste Association's World Congress
Baltimore, MD
September 25-27, 2017

GBB, Exhibitor (Booth #710) and Co-Sponsor of SWANA's Young Professionals booth.
Eric Weiss, Poster Presentation
"Using a Waste Characterization to Make Effective Solid Waste Planning Decisions"

Harvey Gershman, Roundtable Facilitator
"Climate Change"
Harvey Gershman, Moderator
"Achieving Zero Greenhouse Gas Emissions in the Ontario Waste Sector"

John Carlton, P.E., BCEE, Moderator
"SUEZ Last References on Organics Agronomic Recovery with Green Energy"

Chris Lund, P.E., PSS, Speaker
"Dump Closure as Part of Guam's Solid Waste System Turnaround"

Brad Kelley, BSME, Moderator
"How Does a Waste Characterization Study Help with Future Planning?"

Renewable Energy from Waste Conference
Online Conference
October 3-4, 2017

GBB, Co-organizer

Harvey Gershman, Speaker and Moderator
"Waste Conversion Industry Update"

Steve Simmons, Moderator
"Lessons from Abroad"

Municipal Waste Management Association Conference
Louisville, KY
October 16-17, 2017

Lori Scozzafava, Speaker
Recycling Association of Minnesota / SWANA Conference
Brooklyn Park, MN
October 16-17, 2017

Matt Clark, P.E., Speaker

BioCycle Conference on Renewable Energy from Organics Recycling
Portland, OR
October 16-19, 2017

Ljupka Arsova, Speaker
"Assessing Biogas Project Potential for Tribal Communities"
Visit the conference / tradeshow section of our Website for an updated list!
---
Social Media
We invite you to follow, and like, GBB on LinkedIn, Twitter, and Facebook to automatically get the latest news and info!
---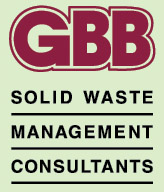 2010 Corporate Ridge
Suite 510
McLean, VA 22102

703.573.5800
Fax: 703.698.1306
Looking Forward to WASTECON / International Solid Waste Association's World Congress
Co-Sponsorship of the SWANA Young Professionals Booth
Part of GBB's corporate culture is to mentor and encourage young talents to pursue their passion for solid waste management and the environment. As such, in 1980, GBB created an internship program allowing young professionals to acquire valuable experience and use it as a stepping stone for their career. Many are now key members of the industry, contributing to the advancement of sound waste management programs, either in the private or public sector. Other recent examples illustrating GBB's commitment to share its passion for the environment with younger generations are a webinar provided to a Maryland elementary school to discuss the reduce / reuse / recycle / recover / dispose hierarchy, and a seminar on the solid waste management industry, with a focus on technologies, provided to future Michigan Tech Mechanical Engineering graduates.
In line with that corporate culture, and as a long-time WASTECON exhibitor and participant, GBB started to co-sponsor the Solid Waste Association of North America (SWANA)'s Young Professionals (YP) booth in 2015. We're proud to do so again in 2017 in Baltimore, MD, as WASTECON is co-located with the International Solid Waste Association's World Congress. Learn more about SWANA's YP at their website and make sure to go visit the YP booth at WASTECON!

GBB on the Conference Program
GBB will be at booth #710 and GBBers will speak / moderate at the following sessions:
Using a Waste Characterization to Make Effective Solid Waste Planning Decisions
Eric Weiss, Consultant II (Poster Presentation)
Monday, September 25 at 8am
Climate Change
Harvey Gershman (Roundtable Facilitator)
Monday, September 25 at 9am
Energy Recovery
Ljupka Arsova (Roundtable Facilitator)
Monday, September 25 at 9am
Achieving Zero Greenhouse Gas Emissions in the Ontario Waste Sector
Harvey Gershman (Moderator)
Monday, September 25 at 2pm
SUEZ Last References on Organics Agronomic Recovery with Green Energy
John Carlton, P.E., BCEE (Moderator)
Monday, September 25 at 2pm
Young Professionals Workshop: Finding Smart Technology Solutions to the World's Biggest Waste Challenges
Ljupka Arsova (Moderator)
Monday, September 25 at 3:45pm
Dump Closure as Part of Guam's Solid Waste System Turnaround
Chris Lund, P.E., PSS, Senior Vice President (Speaker)
Tuesday, September 26 at 3:30pm
How does a Waste Characterization Study help with Future Planning?
Brad Kelley, BSME, Senior Project Engineer (Speaker)
Wednesday, September 27 at 9am

We look forward to seeing you there!

---
New Guam Landfill Built Under GBB Receivership Cited as Positive Example in EPA Report
The U.S. Environmental Protection Agency (US EPA), through its Office of Research and Development, released a research report providing technical assistance on solid waste management for remote, economically challenged communities in the Commonwealth of Northern Mariana Islands (CNMI) and American Samoa in the US Pacific territories. While the U.S. Territory of Guam was not a focus of the study, site visits were made to obtain an overview of Guam's solid waste management system. As part of its report, the US EPA states that: "Guam is a positive example of how a territory which once only had a large unlined landfill as the sole option for MSW disposal can design, construct, and operate a state-of-the-art MSWLF."
In 2008, the Chief Judge of the United States District Court of Guam appointed GBB as Receiver to achieve the Guam Government's compliance with the Clean Water Act as set forth in a 2004 Consent Decree. The Decree, signed between the Government of Guam and the US EPA, ordered the Government of Guam to close the Ordot Dump, cease all leachate discharges into the Lonfit River, and open a new municipal solid waste landfill facility.
To develop the turnaround plan, GBB assembled a multi-disciplinary team of solid waste, procurement, landfill engineering, financial, and communication experts who presented the Court with a roadmap for accomplishing the Consent Decree projects and reforming Guam's solid waste management system. GBB, working with public works, financial departments, the military, private waste haulers, and other stakeholders in Guam, has closed the Ordot Dump, opened a new landfill and is on a path to comply with all the terms of the Consent Decree in the most cost-effective and expeditious manner possible. This has been accomplished under the guidance of the Court and in consultation with the US EPA and the Guam Environmental Protection Agency.
The US EPA report entitled "Sustainable Approaches for Materials Management in Remote, Economically Challenged Areas of the Pacific" can be downloaded (Adobe Acrobat PDF file) at: https://cfpub.epa.gov/si/si_public_file_download.cfm?p_download_id=530387
Information about the receivership is available at the Guam Solid Waste Receivership Information Center and at the Guam Solid Waste Authority's website.

---
Fort Worth's City Council Approves 20-Year Comprehensive Solid Waste Management Plan
The Fort Worth City Council unanimously approved, after a public hearing at its September 12 meeting, a 20-Year Comprehensive Solid Waste Management Plan developed with the assistance of a GBB Project Team that included three Fort Worth, TX-based firms: Risa Weinberger & Associates, Inc., Arredondo, Zepeda & Brunz, LLC (AZ&B), and OCG+.

Key initiatives and goals of the Plan include:

Preserving the City's Southeast Landfill through diversion and recycling programs;
Establishing a Material Management Program to assist commercial businesses, industry and institutions with their efforts to increase recycling and decrease waste generation;
Furthering the City's overall efforts toward increasing total diversion and expanding recycling programs;
Improving litter prevention and abatement programs and expanding the use of public containers;
Evaluating and implementing a pilot organics composting program;
Increasing educational programs and outreach efforts;
Improving and expending residential services;
Evaluating future developmental standards that expand diversion and recycling; and,
Developing new programs with incentives that foster increased diversion or recovery of building construction and demolition materials.

"This is a balanced, strategic, and effective long-term solid waste management plan that will serve as a blueprint to make Fort Worth greener, and further position the City as a sustainability leader in the local community and throughout the country.

The GBB Project Team, along with Solid Waste Services Division staff led by Assistant Director Robert Smouse, worked closely with multiple and diverse stakeholders to successfully develop and fine-tune the plan that the Council ultimately approved. I'm excited to now turn to the implementation phase and see the entire Fort Worth community benefit from it."

Brandon Bennett
Code Compliance Director
City of Fort Worth

"The City of Fort Worth has a tradition, going back almost 50 years, of being proactive in waste management. It operates an award-winning program and is dedicated to provide residents and businesses with enhanced opportunities to divert, recycle, and reuse.

The city diverted 7% of its waste prior to 2003 and 24% in 2013. The approval of the plan is a very positive news in the process to achieve the city's goal to divert 40% of residential waste away from the landfill through recycling and other programs."

John Carlton, P.E., BCEE
GBB Senior Vice President
(from left to right) Robert Smouse (Assistant Director - Solid Waste, Code Compliance Department, City of Fort Worth), John Carlton (GBB Senior Vice President), Michael Carleton (AZ&B Manager), and Joao Pimentel (Senior Planner - Solid Waste, Code Compliance Department, City of Fort Worth) after the approval of the plan.
---
Fort Wayne's Collection Services Procurement Results in Additional Savings, Innovative Revenue Sharing System
In 2010, GBB assisted the City of Fort Wayne, IN with a procurement process for solid waste collection / disposal services and recyclables collection as well as processing/marketing services that ultimately improved services, lowered costs, and increased recycling. In 2016, as the agreements with the selected contractor were nearing their completion, the City tasked GBB with the review of the current garbage and recycling collection programs and the evaluation of the feasibility of adding yard waste and organics. The assignment also included benchmarking program costs against comparable municipalities, and providing recommendations and alternatives for the future. As part of the stakeholders' outreach process, the GBB Project Team mediated focus groups to get feedback from residents on both current and potential future services.
Based on the approved recommendations from its review, GBB assisted the City with the procurement process by issuing a multi-option Invitation to Bid (ITB) structured to evaluate price impacts of adding separate yard waste collection for data-driven decision-making. The ITB was distributed to both local and regional haulers, including firms operating in the Midwest but not currently active in Fort Wayne, to maximize competition and encourage diverse bids.
As a result, a competitive bid by a hauler new to the market led to cost savings for the City versus the next-lowest prices. The new agreement includes recyclables revenue sharing of 75% which provides more benefit and less risk to the City, and further incentivizes proper participation from residents in order to maximize revenues. Furthermore, a dedicated funding source for public outreach will provide opportunities to improve the customer service experience and the efficiency of the program. New, flexible enforcement and liquidated damages provisions in collection contract were also set to create a more dynamic relationship between the City and the hauler.
With another strategic approach to the procurement process, the City of Fort Wayne seized a great opportunity to expand the level and quality of service it provides its residents while conserving landfill space, reducing environmental impacts, and returning resources to the natural environment and manufacturing systems.

---
Don't Miss the Premier Waste Conversion Industry Event - Free Online Event!
Hurricane Irma Forces the 2017 Renewable Energy from Waste Conference to Adapt Event as Free Online Conference
FREE Online Event
Register Now to reserve your space at this free Renewable Energy from Waste online event!
Conference Program
Two days of live online sessions will cover a wide range of topics critical to understanding the industry, including:
Waste Conversion Industry Update

Lessons from Abroad

Developing Domestic Refuse-Derived Fuel Processing Systems and Creating Demand

Closing the Loop with RNG

The Lee County, FL Success Story

Expanding Integrated Waste Management Systems Toward a Circular Economy

Tech Talks

Corporate Success with Waste Conversion
Learn More & Register Now!
The past weeks have been a difficult time for the state of Florida and many in the southeastern U.S. Relief agencies, governments, residents and industry continue the cleanup and rebuilding process as a result of Hurricane Irma.
Unfortunately, southwest Florida and Fort Myers, Florida, where the 2017 Renewable Energy from Waste (REW) Conference was to be held Oct. 2-4, was one of the areas most affected by the disaster. Lee County, which includes Fort Myers, was scheduled to host a facility tour and give a presentation during the conference.
The Recycling Today Media Group, the REW Conference organizer, has decided that because of the storm damage and ongoing recovery efforts, it will change the format to a FREE virtual conference for 2017. This means attendees will be able to participate from their own offices virtually, avoiding travel to the affected region.
Attendees will have access to the same great educational sessions and will be able to interact with presenters. The Free REW Virtual Conference will be Oct. 3 and 4 from 10 a.m. to 2 p.m. EST.
While attending, you'll be able to hear from experts during eight separate panels, over two days. There's no doubt that you will gain useful perspectives and better understanding of successful operations. Who knows? You just might gain that kernel of information that makes the difference between success and failure of your latest project.
This event, created by Waste Today and Recycling Today Events, in association with Gershman, Brickner & Bratton, Inc. (GBB), is the leading convention exclusively centered around waste conversion.
The REW Conference provides attendees with information on a wide variety of options - because no one waste conversion technology or fuel product is the solution for everyone. At this conference, you'll hear about technologies that handle various waste streams, from organics to industrial to municipal solid waste. Beyond the technologies themselves, you'll hear about the planning, permitting and market conditions that are essential to successful projects.
That is why the REW Conference has become firmly established as the premier event for this rapidly developing and dynamic waste conversion industry. No other event delves as deep into the issues or offers the insights that the REW Conference continues to provide each year. We hope that you will attend!

---
GBB Assisting the City of Tampa, FL with Solid Waste Management Master Plan Development
The City of Tampa, FL selected Tetra Tech, Inc. (Tetra Tech), with GBB and Vistra Communications as subcontractors, to develop a Solid Waste Management Master Plan for a horizon of 15 years for the Department of Solid Waste and Environmental Program Management. As part of the important assignment, the Project Team will identify sustainable alternatives to maximize resources, and reduce expenses, including minimizing overtime currently required to provide core collection services. The team will also evaluate the financial impact of out-of-service vehicles and review available technologies to improve and expand the services provided by the department. As the City relies on an aging waste-to-energy facility as a key feature of the system, the Project Team will assess the plant, evaluate vulnerabilities and develop an improvement plan and approach to manage/mitigate the risk. Alternative programs, services and assets will also be identified to increase efficiency and provide enhanced services while being fiscally responsible and minimizing risk.
An integral part of the plan development will be a benchmark review with large Florida cities and cities nationwide with systems and services similar to those of Tampa. A public outreach, public relations, and communications task will also be key to inform the public, stakeholder groups, and internal City managers about the project and proposed scenarios to provide input to the Department as it makes decisions about future services and operations.
Tetra Tech and GBB have previously worked seamlessly together for Orange County and Rockland County, NY and are also currently teaming up in Lee County, FL, which has many of the same elements and challenges as the City of Tampa.

---