AUGUST 2016
Looking Forward to WASTECON! GBB Exhibiting, Presenting and Co-Sponsoring SWANA's Young Professionals Booth >
Renewable Energy from Waste Conference: Premier Waste Conversion Industry Event >
GBB and Stern Brothers & Co. Announce Renewable Energy from Waste Agreement >
Lee County, FL Contracts with Tetra Tech and GBB to Develop Long-Term Integrated Waste Management Plan >
GBB Team to Develop Solid Waste Strategic Plan for Rutherford County & City of Murfreesboro, TN >
From Steve Simmons' Blog: Community Energy >
Sam Lybrand Joins GBB as Principal Associate >
American Chemistry Council Publishes GBB Report on Modern Technologies for Mixed Waste Processing >
---
Sam Lybrand Joins GBB as Principal Associate
Samuel M. Lybrand has joined GBB as a Principal Associate. He brings over 35 years of in-depth knowledge and private-sector experience establishing and operating integrated solid waste systems which includes collection, transfer, recycling, landfill, and waste-to-energy.
His diverse skillset includes management, logistics, operations, sales, financial, project management and business development.
Recent experience includes:
Establishing and managing transportation, logistics and disposal operations for a large full-service waste management company providing solid waste collection, recycling and disposal services to commercial, industrial, municipal and residential customers;
Developing and implementing marketing, business and operations improvement plans for a large company providing solid and special waste collection, recycling, transfer, and treatment and disposal services; and
Conducting business development and marketing efforts for disposal facilities including the preparation of marketing plans, competitive analysis, operating assumptions and review of potential acquisition opportunities for a large recycling and waste disposal services provider.
---
American Chemistry Council Publishes GBB Report on Modern Technologies for Mixed Waste Processing
The American Chemistry Council's (ACC) Plastics Division recently published a report demonstrating that the principal technology and equipment utilized in modern materials recovery facilities (MRFs) are being successfully integrated into new mixed waste processing facilities (MWPFs.) It is a supplement to the previous ACC report, published in 2015, that provided an overview of the history, evolution, and role of MRFs in modern solid waste management. In this report, today's MRFs and MWPFs were evaluated for how efficiently they divert materials from landfills by maximizing recovery of marketable commodities from single and dual stream recyclables and/or municipal solid waste (MSW.)
Both reports, authored by GBB, are available on the ACC website:
The Evolution of Mixed Waste Processing Facilities - Technology and Equipment Guide

The Evolution of Mixed Waste Processing Facilities - 1970 to Today
The newly released supplemental report reviews ten specific types of commercially proven equipment that are traditionally used or adapted for the handling of solid waste, such as optical sorting systems, bag openers, and air separation systems and densifiers. It describes how each type of equipment is uniquely designed for the separation of certain constituents in MSW for both MRFs and MWPFs. The evaluation includes the quality of the finished product; the volume that is captured versus lost; and the speeds at which the processing equipment works.
---
Speaker's Corner
"RFP Writing for Municipal Solid Waste & Recycling Professionals - Minimizing Risk, Maximizing Rewards"
In late April 2016, the Municipal Waste Management Association, the environmental affiliate of The United States Conference of Mayors, presented a webinar from Lori Scozzafava, GBB Vice President, who shared tips and best practices to approach procurement processes from a strategic standpoint in order to generate responses that will help communities minimize liability and losses, and maximize their return on investment.

Click here to view a PDF of the presentation >
---
Recent GBB Assignments
In the past few months, GBB has been selected for several new assignments, including:
Collection Efficiency Evaluation and Automation
City of Aiken, SC (as subcontractor to Smith+Gardner)
Recycling and Refuse Service
Survey
City of Broken Arrow, OK
Development of Solid Waste Strategic Plan
City of Murfreesboro and Rutherford County, TN
Development of Long-Term Integrated Waste Management Plan
Lee County, FL (as subcontractor to Tetra Tech)
Independent Review of a Materials Recycling Facility
Mecklenburg County, NC
Glass Marketing Study
Ocean County, NJ (as subcontractor to Hatch Mott MacDonald, LLC)
We very much appreciate the opportunity to assist these clients with their needs.
---
Social Media
We invite you to follow, and like, GBB on LinkedIn, Twitter, and Facebook to automatically get the latest news and info!
---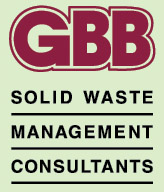 8550 Arlington Boulevard
Suite 304
Fairfax, VA 22031
703.573.5800
Fax: 703.698.1306
Looking Forward to WASTECON!
GBB Exhibiting, Presenting and Co-Sponsoring SWANA's
Young Professionals Booth
WASTECON is right around the corner, on August 22-25, 2016, in Indianapolis, IN. GBB is proud to once again co-sponsor the Solid Waste Association of North America (SWANA)'s Young Professionals (YP) booth. Since 1980, GBB mentored and empowered dozens of young professionals who joined the firm as consultants or as part of the internship program. The internship program has provided opportunities to motivated individuals to acquire hands-on experience in the solid waste management industry, further their knowledge in the environmental field, and work with GBB consultants.
Additionally, GBB will be at booth #1219, right next to the break zone, and speak/moderate at the following sessions:
"Waste-to-Energy on a Very Small Scale: The Metlakatla Indian Community Experience"
John Carlton, P.E., BCEE (Speaker)
Tuesday, August 23 at 5pm
"Waste-to-Energy Lessons Learned: A 30-Year Evaluation on Why Projects Succeeded or Failed"
Harvey Gershman (Speaker)
Wednesday, August 24 at 10:15am
"Yard Waste Composting Versus Landfill Gas Recovery: The Iowa Story: What Really Happened"
John Carlton, P.E., BCEE (Moderator)
Wednesday, August 24 at 10:15am
"The Measure of Success: How to Measure Recycling Program Success in the Era of the Changing Ton"
John Carlton, P.E., BCEE (Speaker)
Thursday, August 25 at 10:15am
We look forward to seeing you there!

More info:
---

Renewable Energy from Waste Conference: Premier Waste Conversion Industry Event
Now in its fourth year, the Renewable Energy from Waste (REW) Conference will take place November 14-16, 2016 in Long Beach, CA. This premier event is produced by the Recycling Today Media Group, the publisher of Renewable Energy from Waste magazine, and GBB. Established to provide the latest information for the rapidly developing and dynamic waste conversion industry, REW Conference is designed to broaden attendees' understanding of waste conversion technologies and the market trends that are critical to the development of new projects. More than 30 experts will share case studies and real-world experience in planning, implementing and operating successful projects during the 2016 event.
An ideal environment for key industry players to learn, network, and exchange ideas, the conference provides deep insights into technology, markets and application of the technologies that can provide solutions to waste problems. Any business, waste and recycling firm, or government official trying to understand how energy recovery can be part of a waste diversion program will want to attend.
Two full days of sessions will cover a wide range of topics critical to understanding the industry, including:
The role of waste-to-energy in the circular economy;
National, state and local market outlooks;
Fuel processing innovations;
Structuring effective public-private partnerships; and
Opportunities for biogas.
Pre-Conference Workshop
Attendees will also have the option to register, with a separate fee, for a half-day pre-conference workshop entitled "From Concept to Reality - Waste Conversion Project Implementation," led and facilitated by GBB. This is a unique opportunity, for public- and private-sector conference attendees, to leverage and further maximize their conference experience by learning from, and exchanging ideas with, industry experts and colleagues with similar experiences in an intimate workshop setting conducive to in-depth discussions.
Steve Simmons

Chip Clements

Harvey Gershman

John May
The workshop will show industry professionals how to cut through the noise and provide the technology overview, permitting and financing considerations, and project procurement approaches needed to successfully implement a waste conversion project that can help your integrated solid waste management system get closer to zero waste to landfill. The afternoon will be broken down into 4 sessions:
Status of Waste Conversion Technologies
Stephen Simmons
GBB Vice President
Conducting a Procurement and Development Process
Harvey Gershman
GBB President
Permitting Considerations for Waste Conversion Project
Chip Clements, P.E.
President and Founder of Clements Environmental Corporation
Involving an Investment Banker to Raise Equity and Debt
John May
Stern Brothers & Co Managing Director
Visit the conference's website for registration and more information. We hope to see you there!

In the meantime, two key presentations from the 2015 event are available for download:
---
GBB and Stern Brothers & Co. Announce Renewable Energy from Waste Agreement
"This is a natural joint venture that creates valuable synergies as both firms have extensive complementary experience and fields of expertise. We're happy to join forces with the GBB team on renewable energy financing projects, providing clients with resources, knowledge and expertise that are second to none."
John May
Stern Managing Director and
Co-Head of the Renewable Energy Practice
"GBB's combination of energy and solid waste management experience enables us to evaluate technologies and operations, including the potential to use alternative fuels and provide recommendations that take into account technical, legal, and economic issues. Joining forces with Stern, one of the top renewable energy bankers in the country, further advances and enhances the range of services that we both offer to renewable energy industry players."
Harvey Gershman
GBB President and co-Founder
Stern Brothers & Co. (Stern) and GBB entered into a strategic agreement that will advance Waste-to-Energy (WTE) infrastructure and alternative energy projects. Under the advisory relationship agreement, GBB supports Stern's execution of transactions by providing strategic industry consulting, industry research, project due diligence, financial analysis and other functions related to the development of energy and infrastructure projects.
Stern is an independent, certified woman-owned business enterprise (WBE) investment bank whose sole focus is public and infrastructure finance. Founded in 1917, the firm specializes in creating customized financing solutions for public and private borrowers, and is committed to having a team of experienced banker's structure innovative financings that meet its client's goals.
Stern's Energy and Infrastructure Finance Group specializes in using tax-exempt and taxable bonds to optimize the debt structure and equity returns of developers seeking non-recourse project financing for energy and alternative energy projects. Stern also acts as a financial advisor to companies seeking corporate and project equity, and joint venture partners. Stern has offices in Atlanta, Chicago, Cleveland, Denver, Houston, Kansas City, Los Angeles, New York, New Jersey, Oregon, St. Louis and Tampa.
GBB brings great expertise and advice to Stern. Having worked on approximately 200 assignments involving utilization of waste for its energy content since 1980, and tracking 475+ alternative conversion technology companies, GBB has a significant amount of WTE and conversion technologies (CT) experience. This includes a number of initial feasibility studies, economic analyses to vendor negotiations, assisting in financing activities by coordinating the process and preparing the feasibility reports for the official statements, and monitoring construction and commercial operations as well.

More info:
---
Lee County, FL Contracts with Tetra Tech and GBB to Develop Long-Term Integrated Waste Management Plan
"The BoCC was seeking the services of consultants that can bring expertise, fresh perspectives and forward thinking to the process and can envision how the existing system can evolve to best serve the County's citizens over the next 20 years.
The Tetra Tech/GBB Team brings to the table extensive complementary expertise, and we are excited to be working hand-in-hand with them to prepare a blueprint to address our significant long-term needs to deal with the growth expected in Lee County."
Keith Howard
Solid Waste Division Director
Lee County, FL

"The County's integrated solid waste system that provides and administers collection, recycling, processing, waste-to-energy, landfill and hazardous chemicals management has been well managed and administered since the early 1990s and operated under an enterprise fund.
Planning for the long-term, we will identify an extensive array of alternatives, both policy and infrastructure, and then work with the County to select different system approaches that will be carefully analyzed."
John G. Carlton, P.E., BCEE.
GBB Senior Vice President
GBB, as a subcontractor to Tetra Tech, Inc. (Tetra Tech), is assisting Lee County, FL, with its Integrated Waste Management System (IWMS) Expansion Project. As part of the County's plans for the management of its solid waste over the next 20 years, the Tetra Tech/GBB project team will perform a waste characterization study, an evaluation of the County's current system, a review of regional systems and national best practices, an evaluation of available technologies, a needs forecast, and an analysis of options. Once the options are defined and preliminarily analyzed, the Project Team will work with the County to group them into several system scenarios that will be fully described and analyzed. Projected costs will also be determined. Internal workshops and meetings with County management and its Board of County Commissioners (BoCC) as well as a public involvement process to both inform and gain input to the direction the County should head in the future are also planned.
The ultimate output for the initial phase of the project will be a Basis of Design Report. Implementation and support assistance for future phases will be determined as the County undertakes the various policy changes, procurement, contracting, and development activities to begin changing its IWMS.
Lee County, which comprises the Cape Coral-Fort Myers metropolitan area, has an award-winning solid waste system with an extensive array of assets, services, and operations that manages approximately 800,000 tons per year of waste and provides and oversees services to about 660,000 residents.

---
GBB Team to Develop Solid Waste Strategic Plan for Rutherford County & City of Murfreesboro, TN
"The most pressing challenges facing the County and the City at present are remarkable population growth and locally-available disposal capacity for both municipal solid waste and debris.
GBB's team clearly understands the challenges Rutherford County faces and has a sound approach to create a long-term vision with an achievable roadmap for our future solid waste management system."
Shane McFarlandHoward
Mayor
City of Murfreesboro, TN

"The City of Murfreesboro and Rutherford County have asked us to carry out a multi-step process to engage stakeholders to set the vision for how the region manages its municipal solid waste going forward. Initially, we will define which public entities will be part of a future solid waste management system, the possible establishment of a countywide or regional authority, and preliminary consideration of solid waste management options."
John G. Carlton, P.E., BCEE.
GBB Senior Vice President
GBB has contracted with Rutherford County and the City of Murfreesboro, TN, to prepare a solid waste strategic plan that will identify and evaluate available technologies to expand, create, supplement, or replace the existing infrastructure to manage the community's solid waste management needs into the next 20 to 40 years. Joining GBB for this assignment are TriAD Environmental Consultants and Cooley Public Strategies, LLC, both headquartered in Tennessee.
As part of this assignment, the GBB Project Team will conduct a planning and public decision-making process that will review key factors such as: technology and management options for the future solid waste management system; who the solid waste management system should serve; how the system should be implemented; and, how the system will be administered.
Rutherford County is one of the top five most populated counties in Tennessee, and its population growth is expected to be the highest in the state, going from the current 300,000 to an expected 420,000 by 2030. The County, which has no curbside collection of recyclables, provides solid waste disposal/recycling services to its residents through 14 Recycling Centers, and electronic waste disposal/recycling services through the Rutherford County Recycle Center. It also owns and operates the Rutherford County Landfill, a Class III/IV facility expected to reach capacity within four years. For municipal solid waste disposal services, the County currently disposes approximately 258,000 tons of solid waste per year at the locally-available private landfill through its Host Community Agreement.
The City of Murfreesboro, which is the County seat and geographic center of Tennessee, operates one convenience center and provides residential curbside garbage and yard waste collection services. It also operates the Murfreesboro Mulch facility to manage yard waste and brush.

---
From Steve Simmons' Blog: Community Energy
GBB Vice President and renewable energy expert Stephen Simmons' blog features his musings on energy, the environment and sustainability. What follows is a blog entry that he posted in mid-May. Visit www.energybizman.com or follow GBB on LinkedIn, Twitter or Facebook to read his new blog entries!
A few months ago, the Lancaster County Solid Waste Management Authority offered tours of its Turkey Point wind farm. Since Lancaster is a short drive from our home, my wife and I decided to drive out for the tour and an afternoon of Amish country shopping and dining. What better way to start a Saturday date than a tour of a wind farm at a landfill!
Through its solid waste authority, Lancaster County has developed a model of a community-based energy system. It starts with an efficient waste-to-energy facility which can convert over 400,000 tons per year of the community's post-recycling household waste into over 214 million kilowatt-hours of renewable electricity. That's enough to meet the energy needs of about 18,000 homes. Additional waste is taken to a modern lined landfill where methane gas generated by the landfill is captured and used to fuel engines to make more electricity. The windmills located high on a bluff over the Susquehanna River produce electricity which is sold to the adjacent Turkey Hill Dairy to make that awesome Turkey Hill ice cream. The transfer station in town even has solar panels on its roof. Jim Warner and his staff are to be commended for a job well done. I wish we had more such visionary leaders.
The 3 R's of the waste management hierarchy -- reduce, reuse, recycle -- should always come first. Usually, more energy per ton of waste can be saved through recycling than can be recovered through energy conversion. However, despite a desire from the public for increased recycling, the overall nationwide recycling rate has been stuck in the mid 30% range for the past 15 years. The sad fact is that even with advances in material recovery programs and technology, the waste stream is becoming less recyclable as time passes. Fifteen years ago, one of the most recycled commodities was newspaper. Newspaper is still highly recyclable, but today far fewer households subscribe to a daily paper. Great for waste reduction, but it results in less material available for recycling.
After recycling, the choices are processing for energy recovery or landfilling. Unfortunately the prevalent choice today in America is the landfill; it's cheap. The EPA estimates that over 50% of our waste is dumped into landfills each year. Only about 15% of our waste is processed through waste conversion plants for energy recovery. In the European Union and Japan, the story is much different. Those societies have policies in place to favor energy recover over landfilling. Some go so far as to ban organic waste from landfills or to heavily tax it.
Progressive companies are rolling out technologies capable of converting municipal solid waste into transportation fuels. The Canadian firm Enerkem is working with the City of Edmonton to convert that community's post-recycling waste into ethanol. Sierra Biofuels is developing a project outside of Reno, Nevada to do the same. Let's hope these North American companies succeed and trash-to-gas becomes a reality soon. Maybe my great-grandkids will have a world without landfills.