JULY 2015
GBB Co-Sponsors SWANA's Young Professionals Booth at WASTECON >
Lori Scozzafava Joins GBB as Vice President, Operations Officer >
Learn and Network at the Renewable Energy from Waste Conference >
Sharing the Passion for the Environment >
---
Sharing the Passion for the Environment
This past winter, through the magic of technology, Harvey Gershman talked about the reduce / reuse / recycle / recover / dispose hierarchy from his Fairfax, Virginia office with 35 third, fourth and fifth graders at Ohr Chadash Academy in Baltimore, Maryland.
---
Speaker's Corner
"Procuring an Anaerobic Digestion Plant: A Public Sector Perspective"
The BioCycle West Coast Conference, which took place in April 2015 in Portland, OR, focused on providing information and a venue to discuss starting, expanding, and investing in composting, organics recycling, and renewable energy to build sustainable community infrastructure.
Ljupka Arsova, GBB Consultant II, delivered a presentation entitled "Procuring an Anaerobic Digestion Plant: A Public Sector Perspective."

Click here to view a PDF of the presentation >
---
Reading List
As thought leaders, GBB consultants regularly contribute articles to leading industry publications, sharing insight and information on important topics.
Recently published articles include:
If at the End of a Diving Board… Should You Take the Next Step? (Part 1 of 4)?

Bob Brickner
GBB Executive Vice President and Elizabeth Rice
GBB Senior Consultant
MSW Management Magazine
June 2015
Drowning in Non-Collected Recyclables… Where's the Life Vest (Part 2 of 4)?

Bob Brickner
GBB Executive Vice President and Lois Clarke
GBB Principal Associate
MSW Management Magazine
July 2015
What's Ahead for Solid Waste Management?

Harvey Gershman
GBB President
Waste Advantage Magazine
May 2015
Mechanical Biological Treatment Concept for Material and Energy Recovery from Mixed MSW

Ljupka Arsova
GBB Consultant II
Waste Advantage Magazine
April 2015
2015: A Year of Progress Ahead for Renewable Energy from Waste

Harvey Gershman
GBB President
Renewable Energy from Waste Magazine
February 2015
The Organic Factor

John Carlton, PE, BCEE
GBB Senior Vice President
MSW Management Magazine
January 2015
Links to all recently published GBB articles are available on the website.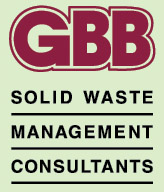 8550 Arlington Boulevard
Suite 304
Fairfax, VA 22031
703.573.5800
Fax: 703.698.1306
From the Intern's Cubicle

By Eric Weiss, GBB Consultant I (former Intern)
I first arrived at GBB headquarters in June 2014 as an intern, eager to begin my professional career. My very first assignment was to update the Advanced Conversion Technology Database, known as the "ACT database".
For those that aren't aware, GBB tracks over 500 companies worldwide that are developing technologies and projects in the waste-to-resource field. These projects include advanced material conversion and renewable energy technologies including Anaerobic Digestion, Gasification, Pyrolysis, and Mass Burn Combustion.
I updated the ACT database by reviewing each company's waste to resource technology solution and marking any notable advances that would change a company's development status ranking. Under this ranking system, a development status of -1 or 0 means the company is still at the research and development stage; 1 or 2 means the company claims to have a viable technology and/or pilot plant; 3 means they own or operate a continuously operated demonstration plant; and 4 means they have a full-scale commercial facility.
By working with the ACT database, I learned that some companies will market their technology as a full-service, or turnkey, solution that only needs a willing partner to develop the waste-to-resource project. Other companies will partner with universities to prepare their technology for commercial deployment in the future. But, only a rare few are qualified to be assigned the GBB development status of 4, which indicates a commercially proven technology.
By summer's end, I had developed the skills to assess a company by analyzing their website, reference facilities, press releases, and other publically available information. Working with the ACT database made the summer fly by, and at the end of August, I had updated every single company. This project became my gateway into GBB and the solid waste management industry.
At the start of the fall, I began my first project as a full-time consultant using the ACT database's information to create a report for a client. A report generated from the database provides a snapshot of the companies involved in the waste-to-resource marketplace. As I continue to learn more about consulting, it's clear that GBB's database provides valuable strategic insights for clients that want to understand the development and commercial status of these technologies.
Now, a year after beginning my internship, I'm working on various types of projects for many different clients. In my time at GBB, I have come to understand the value of effective collaboration in a matrix-style workplace, and I enjoy learning something new about the solid waste industry every day! As my consulting experience continues, Advanced Conversion Technology companies continue to wink in and out of existence like fireflies in the night. So adding, removing, and reviewing companies in the database is a continuous task at GBB.   That is… until the next intern.

---
GBB Co-Sponsors SWANA's Young Professionals Booth at WASTECON
GBB is proud to co-sponsor the Solid Waste Association of North America (SWANA)'s Young Professionals booth at the upcoming WASTECON conference in late August. As defined by SWANA, a "Young Professional" is an individual, 35 or younger, in the solid waste industry. Since 1980, GBB senior consultants have mentored and empowered dozens of young professionals who joined GBB as consultants or interns, instilling in them work ethic and passion for solid waste management. They have grown with GBB and many, with the valuable experience acquired, are now key members of the industry, contributing to the advancement of sound waste management programs, either in the private or public sector.

More info:
---
Lori Scozzafava Joins GBB as Vice President, Operations Officer
Earlier this month, Lori Scozzafava joined the firm as Vice President, Operations Officer. An experienced senior level executive, she has over 25 years of industry experience, including 15 years in high-profile leadership roles within prominent industry associations, where she provided valuable strategic and operational leadership, improved bottom lines, revitalized operations and finance, and managed significant growth of total net assets.
Prior to joining GBB, Ms. Scozzafava was most recently Executive Director of both the US Composting Council (USCC) and the Composting Council Research & Education Foundation (CCREF). From 1999 to 2013, she was a key part of the leadership of the Solid Waste Association of North America (SWANA), which included nine years as Deputy Executive Director supervising Administration, Membership, Information Technologies, and Database Implementation. During her career, she has received several industry recognitions, including being named one of the top Women in Environmental Management by Waste & Recycling News and one of seven "Up-and-Coming" professionals in the recycling and composting industries by Resource Recycling magazine.

"I was part of the GBB family early in my career as a Senior Consultant,
and it's great to be back as the firm
celebrates its 35th anniversary this summer.
I look forward to contributing to, and being part of, GBB's exciting future."
Lori Scozzafava
More info:
---
Learn and Network at the Renewable Energy from Waste Conference
Already in its third edition this year, the Renewable Energy from Waste (REW) Conference has become firmly established as the premier event for the rapidly developing and dynamic waste conversion industry. As no other conference delves as deep into the issues or offers the insights that the REW Conference continues to provide each year, the event is an ideal environment for key industry players to learn, network, and exchange ideas.
The 2015 edition, produced by Recycling Today Media Group, the publisher of Renewable Energy from Waste, and GBB, will take place November 16-19 in Orlando, FL. Waste generators, the government sector, waste management firms, recycling firms, energy and chemical producers, and equipment and technology suppliers will find the conference invaluable for insights into financials, market trends, and technology developments.
The two days of educational sessions will cover complex subjects and provide real-world advice as representatives from the waste-to-energy, anaerobic digestion, and gasification industry share their perspectives. Attendees will also have the option to register, with a separate fee, for a half-day pre-conference workshop on public sector planning and implementation of waste conversion projects presented by Harvey Gershman, GBB President, and Ric Sapir, partner at Hawkins, Delafield & Wood LLP.
Finally, attendees will be able to take a tour of what has been described one of the most innovative anaerobic digestion projects of its kind in North America, Harvest Power's Energy Garden. The facility provides central Florida with electricity from food scraps and other organics generated by the millions of tourists that visit the Orlando area each year. The capacity is 130,000 tons per year with 5.4 megawatts of combined heat-and-power (CHP) output. The tour will be offered on a limited, first come, first served basis.
Visit the conference's website for registration and more information. We hope to see you there!

In the meantime, two key presentations of the 2014 event are available for download:
---
Recent GBB Assignments
In the past few months, GBB has been selected for several new assignments, including:
Solid Waste Management Plan and Solid Waste Characterization Study
Chester County, PA
Solid Waste Management Plan Update including Waste Sort
City of Fayetteville, NC
Efficiency Review of Kent County Integrated Waste Management System and Zero Waste to Landfills for Industries Planning
Kent County, MI
Single Stream Recycling Facility Development Planning
Maryland Environmental Services, MD
Waste Management Planning and Waste-to-Energy Project
Metlakatla Indian Community, AK
We very much appreciate the opportunity to assist these clients with their needs.